Invest in the Future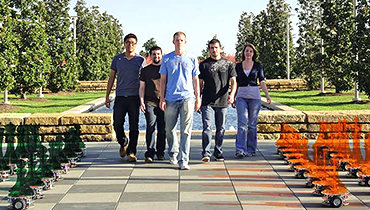 The Jonsson School is the precious progeny of a university that is itself a youngster. Probably within your life, and perhaps within your memory, we have exploded from a visionary idea to a school on the leading edge of nonstop discovery.
Since the Erik Jonsson School of Engineering & Computer Science was born, technology has made exponential advances and so have we. In fact, the Jonsson School has helped fuel this amazing new world of technology that even our visionary founders barely imagined. Carbon nanotubes, micro-electro-mechanical systems, wireless networking, cybersecurity, organic electronics - these are just a handful of the cutting-edge technologies our brilliant faculty and students are advancing through their research.

Our path to Tier One is clear. We need chairs and professorships to attract the best and brightest faculty. We need graduate fellowships and undergraduate scholarships so we can compete with other schools for the most promising students. We need world-class facilities and equipment so these dedicated faculty and students have the tools to engineer the future. With your support, we can seize the opportunities that will shape our future

.